Black and Gold Sound
In the stands for Iowa Men's Basketball, Women's Basketball, and more.
The Iowa Pep Band performs at men's and women's home basketball games, selected wrestling meets (Iowa leads the nation in average season attendance!), and at other selected university functions and sporting events. The IPB travels to the men's/women's Big Ten tournaments each March and to the NCAA tournaments when the Hawkeyes are eligible. Our purpose is to support the Hawkeyes as enthusiastically as we can and to entertain our Iowa fans assembled in recently-renovated Carver-Hawkeye Arena with a wide variety of styles of music.
The Iowa Pep Band is one of the most visible performance groups on campus. It is an integral part of one of the best athletic programs in the country. The majority of the membership comes from students enrolled in the Hawkeye Marching Band. If openings on the IPB roster remain, the positions are filled by students enrolled in one of our concert bands or other UI students on campus. The IPB is organized in early October, with the performance season beginning in late October and concluding in late March. There is no cost to be a member of this organization. Iowa athletics pays for meals, housing, and transportation when the pep band travels to the post-season B1G and NCAA tournaments.
On April 25, 2012, the Iowa Pep Band performed for President Obama's appearance on campus at the UI Field House. He gave a "shout out" to the Pep Band.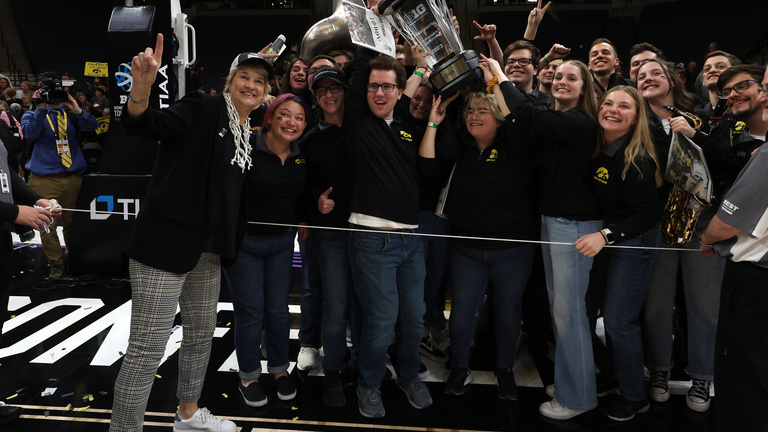 Members enroll in the Iowa Pep Band for the spring semester (MUS:1166:0001; 1 s.h.). IPB members are required to perform in about eighteen events each season (November through March), but they can choose to perform at additional events for post-season travel credit. Members receive a small stipend for the performances they attend over the fall and winter breaks.
In 2019, pep bands traveled to the Men's and Women's B1G tournaments in Indianapolis and New York City. One pep band followed the men's team to Columbus, Ohio for the first/second round of the NCAA tournament, while another pep band followed the women's team all the way to Greensboro, North Carolina for the Sweet Sixteen and Elite Eight rounds of the NCAA tournament.