Imagine: it's game day in Iowa City.
Decked out in black and gold (a uniform and a shako, or your Hawkeye best), the game clock nears 20:00 before kickoff, and you take your place.
From your seat in the Kinnick stands, or your spot on the sideline, you listen for it:
A voice that has echoed for more than 40 years greets 70,000 fans, and then you hear it:
"It's time to get ready for the BOOM."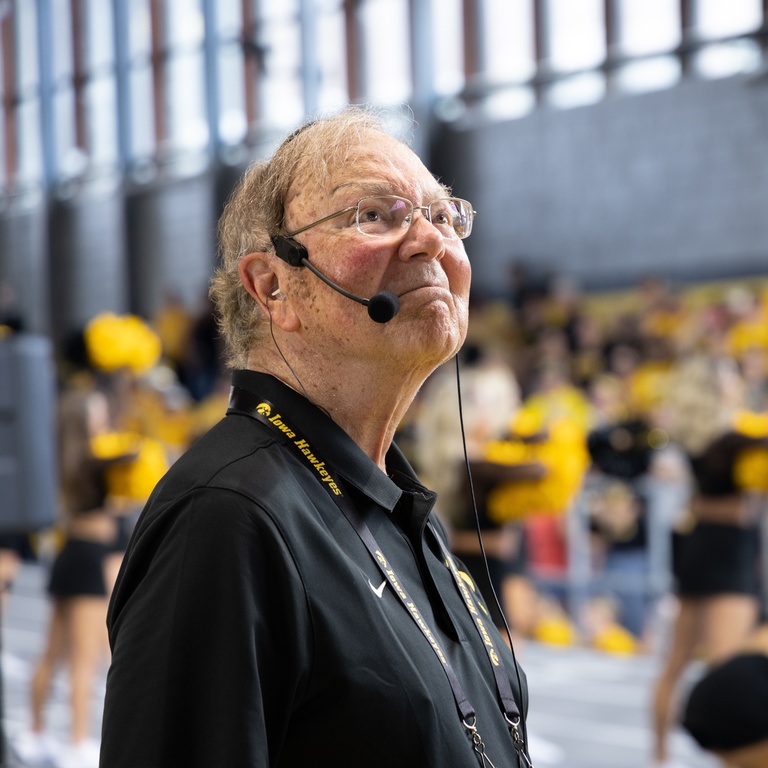 Tomorrow, on One Day for Iowa, we invite our Hawkeye Marching Band family to come together to help build the future of the organization in honor of a Hawkeye legend: the Golden Voice of the Hawkeye Marching Band, Lou Crist.
Lou and his brother Lyndon performed in the Hawkeye Marching Band as undergraduate students in the 1950s and 60s, and in 1981, Lou became the band's announcer. For more than 40 years, his voice has narrated game day with the Hawkeye Marching Band. This year, Lou and his wife, Jan, established a new, unrestricted fund for the Hawkeye Marching Band: The Lou Crist Legacy Fund, to ensure the band continues to grow and thrive for generations of future marching Hawkeyes.
I am blown away by Lou and Jan's generosity, and the generosity of our entire HMB family, who show up every year on One Day for Iowa and prove they believe in what our organization is doing, and want to see it grow and reach even further. It's thanks to the transformational giving on days like One Day for Iowa that the Hawkeye Marching Band has experienced exponential growth in the last five years. I'm not just talking about growth in numbers, although that's pretty great too. I'm talking about growth in visibility and impact. Gifts from our HMB family make it possible for us to take on extraordinary collaborations like the one we had this past fall with The Ohio State University Marching Band. They ensure that students in the band are performing on quality instruments that enhance our sound. They allow us to travel and engage with marching band students across the state of Iowa, so we are reaching more future Hawkeyes than ever before. The list goes on and on — suffice to say, the support of our HMB family is making a huge difference in the lives of our students every day.
I am thrilled to use this year as an opportunity to build on that growth in honor of my dear friend, Lou Crist.
I hope you will consider making a gift to help us build the future of the HMB. And there are other ways to support us too! Help spread the word about what makes the Hawkeye Marching Band an organization that brings people together and reflects the very best of what it means to be a Hawkeye. Post your own photos and stories on Facebook, Instagram, and Twitter, tagging the HMB and using hashtags #HMBFamily and #1DayForIowa.
Thank you for all you do!
On Iowa, and Go Hawks! 
Eric W. Bush
Associate Director of Bands
Director of the Hawkeye Marching Band