Iowa Alumni Marching Band
Former members of the Hawkeye Marching Band (HMB) carry on beloved musical traditions and lifelong friendships through membership in the Iowa Alumni Marching Band. HMB Alumni support the current band, have a deep connection to our campus community, and they perform at key University events, including the annual Homecoming parade and football pregame show, and perform as a pep band for some home basketball games.
About the Alumni Marching Band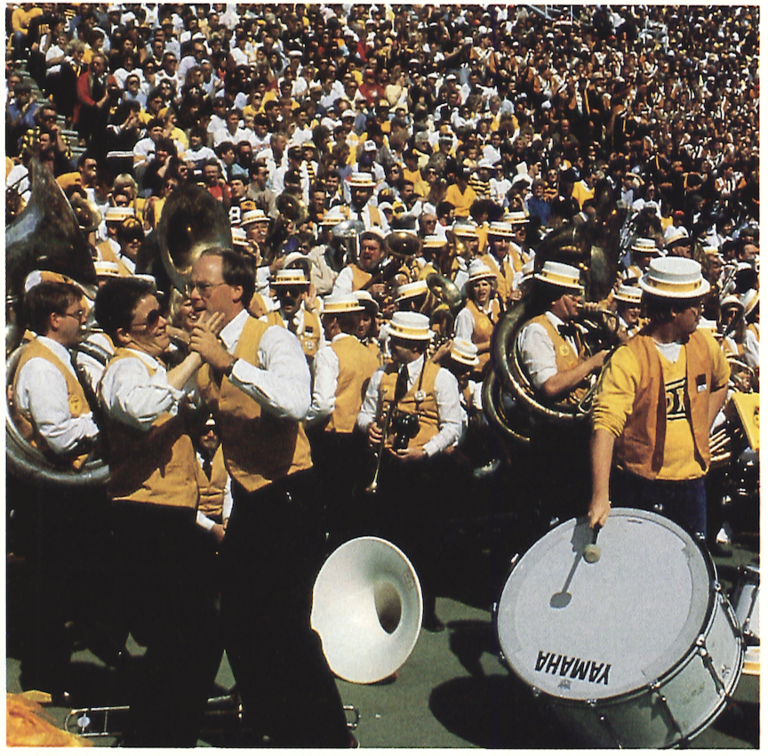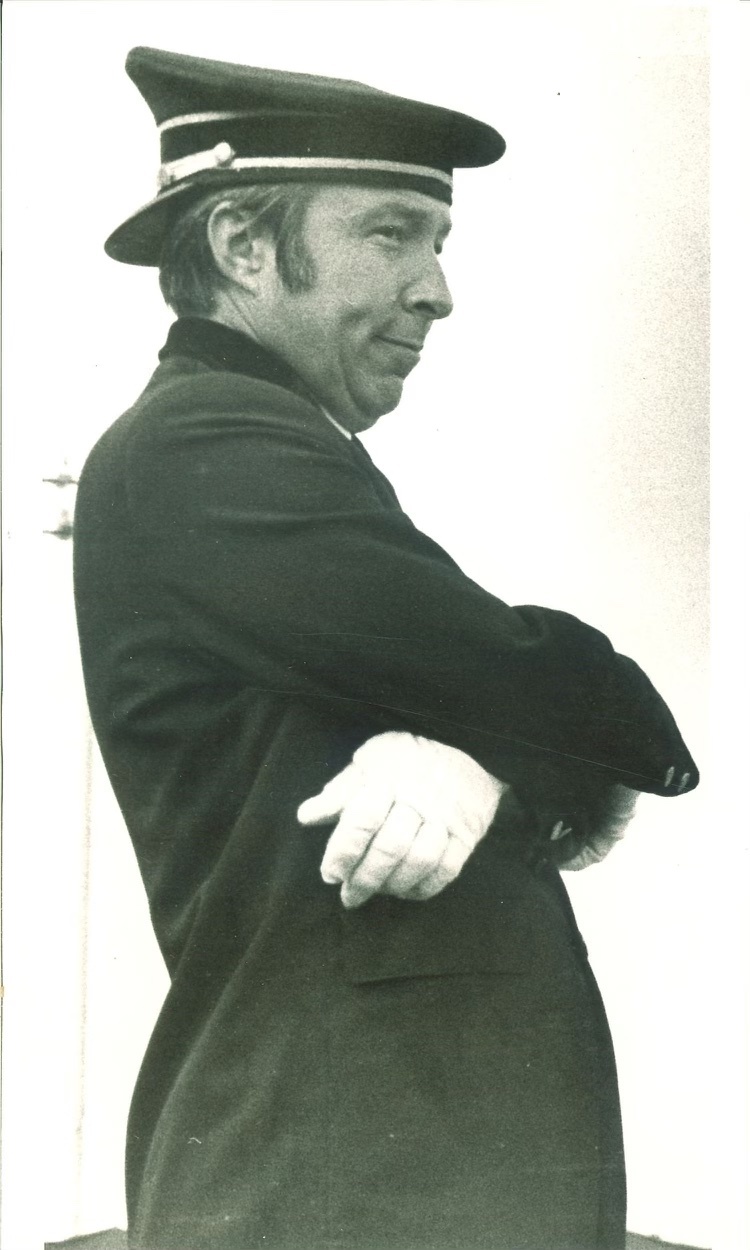 After the 1972 football season, Tom Davis stepped down as the seventh Director of the Hawkeye Marching Band, and in 1973 he started the Iowa Alumni Band, which he directed for thirty years. Alumni Band began with a few musicians riding on the back of a flatbed truck in the Homecoming parade and quickly blossomed into a much larger group than Davis could have imagined. For many years, the Alumni Band stood and performed in a block at halftime with the HMB during the annual Homecoming football game. Davis' arrangement of "Hey Jude" has remained an Alumni Band favorite for over fifty years. Affectionately known as "Mom" to his HMB students and to the Alumni Band, Davis was highly respected, and the alumni organized a banquet to honor him after his thirtieth year as Alumni Band Director. 
In 2001, the twelfth Director of the HMB, Kevin Kastens, offered the Alumni Band the opportunity to perform the entire pregame show. He hoped this would give the alumni a stronger sense of involvement with Homecoming activities and recalled the development of the relationship with band alumni as one of his greatest accomplishments. It was met with an enthusiastic response, and the Alumni Band continues to "Take Back the Field" each year at Homecoming.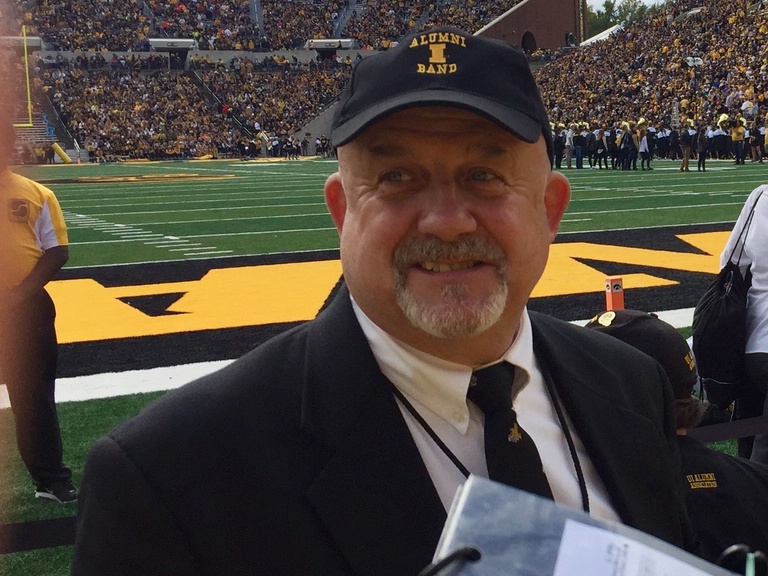 From 1994-1996, former Hawkeye Marching Band director Morgan Jones directed the Iowa Alumni Band, before returning to direct the HMB for a final season, and Alumni Band leadership passed back to Tom Davis. Shortly after the Alumni Band started to perform the pregame show, Davis passed his hat to John Gilbert, a former HMB trombone player and drum major, whom he selected to lead the Alumni Band. Under Gilbert's leadership, unique humor and levity, the Alumni Band continued to grow and flourish. A popular, growing "pep band" played at various downtown Iowa City establishments and on the ped mall after the Homecoming parade and an Alumni Pep Band started to play annually for one or two home basketball games. 
In 2019, the thirteenth Director of the HMB, Eric W. Bush, founded the inaugural Alumni Band Leadership Board as an affinity group through the University of Iowa Center for Advancement (UICA). Board members represent different eras, instruments, and professions and they share a passion for strengthening relationships within Alumni Band and with the Hawkeye Marching Band. In addition to the longstanding Homecoming and basketball pep band performances, alumni engagement opportunities include networking panels with current HMB students, the "Down and Off" podcast hosted and produced by band alumni, regional pep bands led by band alumni (currently in Iowa City, Dubuque, and Des Moines), and the addition of an Iowa River Landing pep band after the Homecoming parade. They also host a Homecoming Kickoff Reception each year downtown in the Voxman Music Building. The Alumni Band is a member of the National Association of Alumni Bands.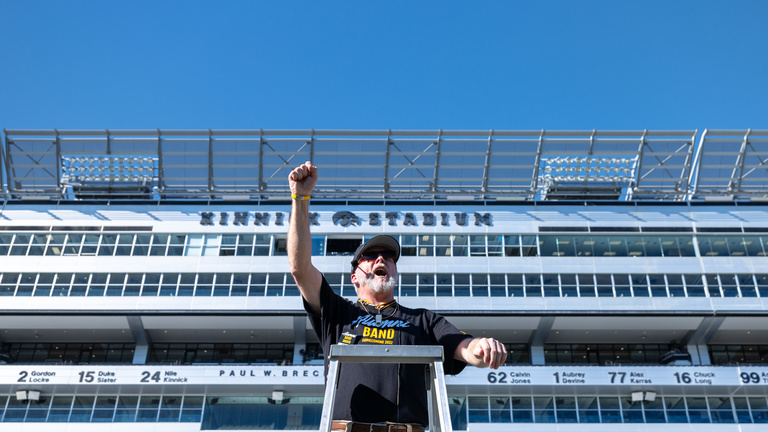 As a member of the first Alumni Band Leadership Board, former baritone player and drum major, Jeff Sebille became the Director of the Homecoming Alumni Band in 2019. The Alumni Band continues to perform the entire pregame show, and is now joined by the current HMB for the "Iowa Fight Song" in a "Super Hawks" formation with over 500 musicians on the field to create a moving, new tradition. Another inaugural board member and former alto saxophone player, Tim Clay, directs the basketball alumni pep bands. 
The Alumni Band looks forward to continuing to grow while bringing together alumni from across the years to share their unique experiences from their time in HMB.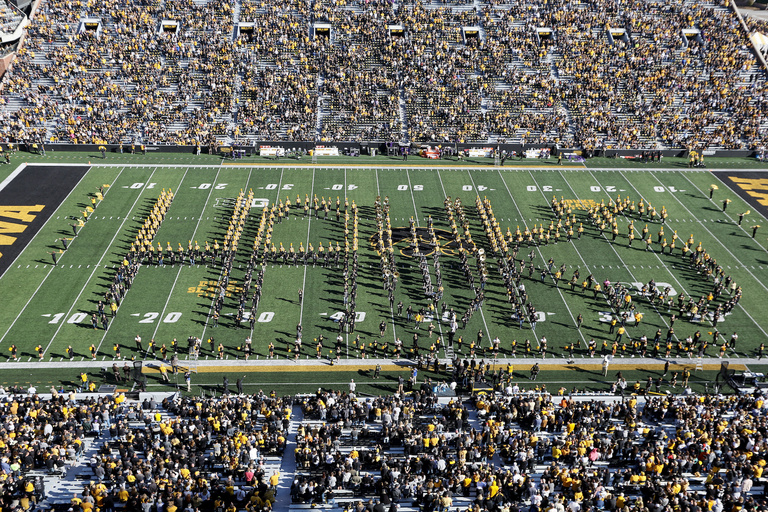 Arlene Houk (Piccolo, '84 BBA)
President

Dina Jensen (Trumpet, '93 BA)
Vice President

Joan Hippen 
(Clarinet, '94 BA, '11 MA)
Secretary

Jeff Sebille (Drum Major, '90 BS)
Homecoming Chair and Musical Co-Director for Homecoming

Tim Clay (Alto Saxophone, '13 BA)
Musical Co-Director for Pep Bands

Kirk Phillips 
(Trumpet, '74 BA, '77 MSW, '02 MS, '05 PhD)
President Emeritus

Ben Bekel (Clarinet, BA '97)

Craig Brown (Cymbals, BA '97)

John Brown 
(Trombone, '90 BA, '08 MPA)

Jim Berg
(Mellophone, '87 BA)

Joe Judge (Sousaphone, BA '00, MA '04)

 
The Alumni Band Leadership Board works to enhance the current Hawkeye Marching Band experience for all students in the program. They foster regular communication between band alumni, including updates through the "Roll Along" newsletter for Iowa Bands. The board works to facilitate relationships with fellow band alumni, create networking and mentorship opportunities between current students and alumni, provide performance opportunities for alums, preserve, share, and document traditions, bridge the experience from student to alumnus, and serve as positive advocates for the Hawkeye Marching Band and University of Iowa. 
The Board's current projects and initiatives include:
Professional networking events hosted once-per-semester with alumni and current Hawkeye Marching Band students, each one focused on a specific career field (e.g. education, engineering, healthcare, etc.)
The establishment of an Alumni Band Scholarship for a current member of the Hawkeye Marching Band
Alumni Pep Band performances at Homecoming, for basketball games in December, and regional performances at I-Club events and game-watch parties
Hosting a reception during Homecoming Week to welcome marching Hawkeyes back to campus
Contributing to an ongoing archival project to collect and archive HMB artifacts including pictures, music, audio recordings, and other materials in collaboration with the School of Music librarian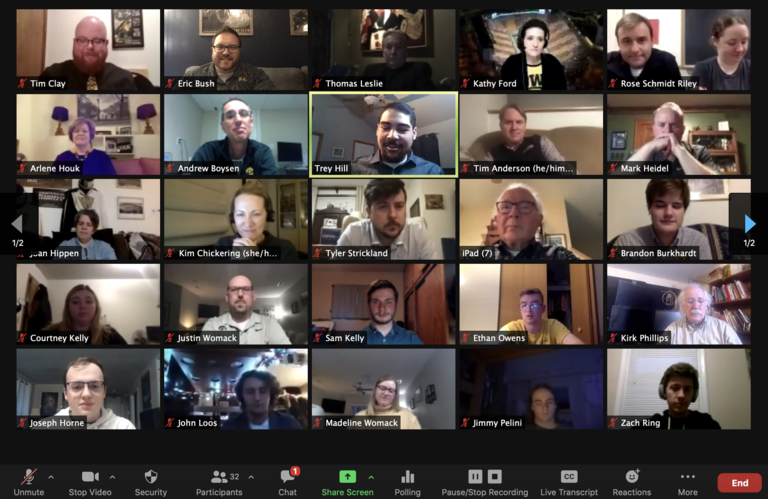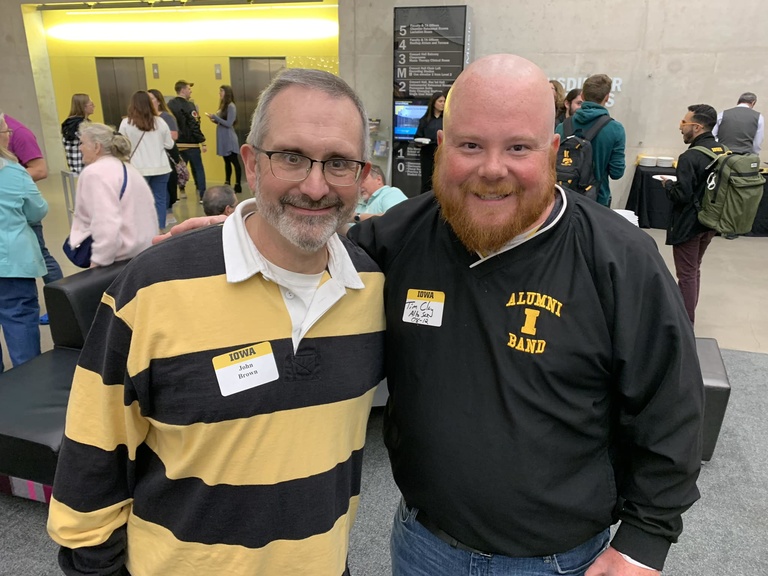 Down and Off is a podcast for members, alumni, friends, and family of the University of Iowa Hawkeye Marching Band, hosted by Alums John Brown ('85-'89) and Tim Clay ('08-'12). Our plan is to dive through the rich history of the HMB, interview folks from over the years, give you a chance to share your stories, learn about the HMB, relive memories, and share in the On Iowa cheer. This is a platform for alums to share their stories with others. Available on Apple Podcasts, Spotify, and wherever you choose to listen to podcasts.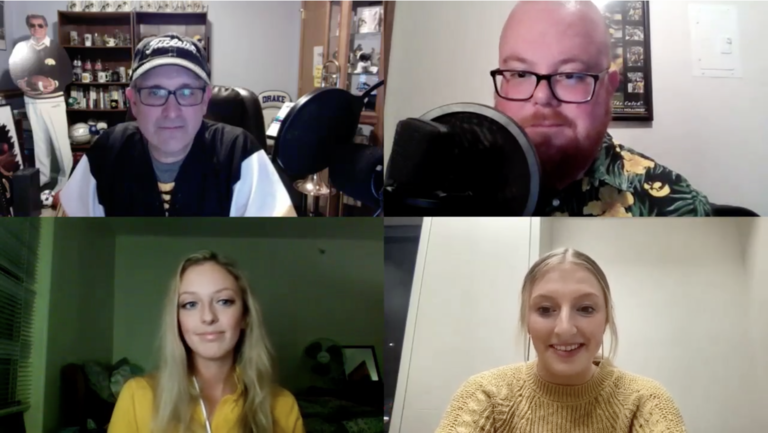 Alumni Pep Bands are a great way to get involved!
Regional pep bands perform for I-Clubs and other organizations and provide live music at watch parties across the US. If you're interested in leading a band or playing, submit your name to the recruitment form at the link below, and we'll get in touch with you about next steps. You can also contact Kirk Phillips at kirk-phillips@uiowa.edu or (319) 430-9566.
I'm Interested in Regional Bands!
---
Are you interested in playing for men's and women's basketball games in December or for other special Iowa Athletics events? There are plenty of opportunities for Fossils to perform! Contact Tim Clay at tgclay@gmail.com.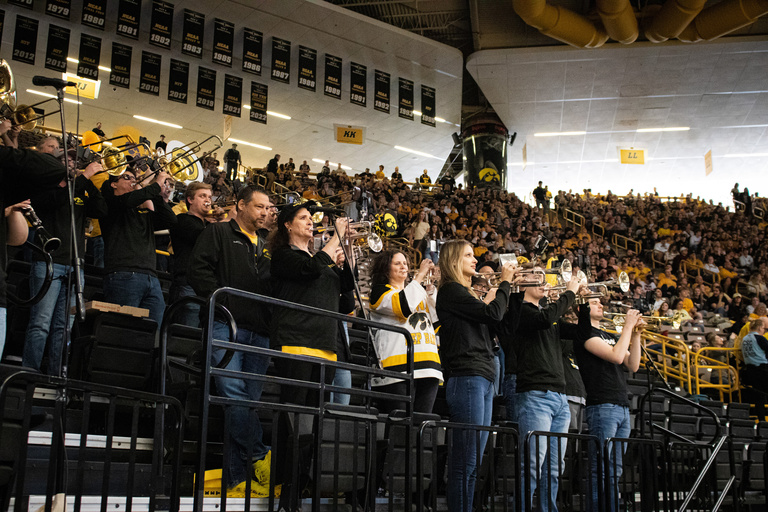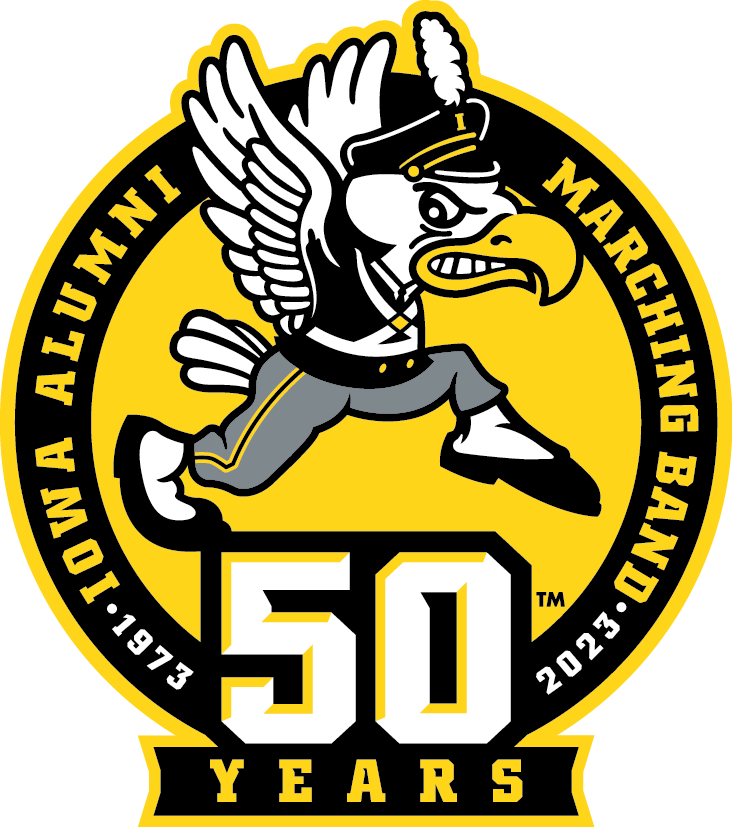 Homecoming
Each fall, the Iowa Alumni Marching Band reunites for Homecoming festivities, including a reception in Voxman Music Building and the Homecoming Parade through Downtown Iowa City. For the Homecoming Game, the Alumni Band "Takes Back the Field" to perform the historic Pregame show once again, before joining the current band in a joint performance of Alma Mater Iowa.
In 2023, we are celebrating the 50th Anniversary of the Alumni Band. Learn more about what we have planned at the link below!