Biography
ELLA MCDANIEL is thrilled to begin her second year at the University of Iowa as the Golden Girl in the Hawkeye Marching Band. Ella comes from Candia, New Hampshire and she has been twirling since the age of five. Since starting twirling, she has competed individually and with her team M Twirling Team at local, regional, national, and international competitions.
Ella has earned numerous state, regional, national, and world titles. She is the 2019 Junior Miss Majorette of America and Junior Grand National Twirling Champion. She is a multi-time World Open Solo, X-Strut, and Rhythmic Champion. Ella is also a member of Team USA and is representing the country at the WFNBTA World Championships in solo, two baton, x-strut, and rhythmic twirling events. At the 2019 IBTF Grand Prix she represented the United States in solo, two baton, and duet and earned a silver medal.
Ella is a sophomore majoring in Health and Human Physiology: Exercise Science on the Pre-Physical Therapy track. After receiving her bachelor's degree, she hopes to pursue her doctorate in physical therapy and one day become a pediatric physical therapist. Ella loved twirling for the Hawkeyes last year and is beyond exciting to continue doing so in the 2022 season!
---
Current + Former Hawkeye Marching Band Golden Girls,
Feature Twirlers, and Baton Twirlers
2021-Present  Ella McDaniel
2017-2021  Kylene Spanbauer
2012-16 Whittney Seckar-Anderson
2007-11  Chelsea Russell
2002-06  Diana Reed
1997-01  Julie Canterbury
1992-96  Tanya Pennock
1989-91  Gayl Anderson
1987-88  Jayna Sanchez, Gayl Anderson (Iowa Girl)
1986  Jayna Sanchez
1985-86 Nikki Meredith
1983-84 Amy Baumel
1982-85  Laurie Broderick
1980-81  Linda Simon
1979  Marcy Goodwich-Volker, Mary Goodrich, Katie Baumel
1977-79  Jane Stemmerman
1973-76  Nancy Shaw
1970-72  Lani Jo Gill Flesch
1968-69  Mary Moffitt Foraker, Lani Jo Gill Flesch
1967-68  Mary Lynn Harvey
1966-67  Mary Moffitt Foraker
1963-65  Bobbie Jean Foulkes
1960-61  Ann-Nita Ekstrom McDonald
1960 Jerilyn Oliver
1959  Ann-Nita Ekstrom McDonald, Margaret Rossi
1958  Ann-Nita Ekstrom McDonald, Lavonne Nolte
1955-57  Lavonne Nolte​
1954  Laura Ellen Moody
1945 Mary DuMont, Catherine Yerkes
1943 Mary DuMont
(HMB alums: e-mail Eric Bush with the names of former HMB Golden Girls/Baton Twirlers so we can expand this list!)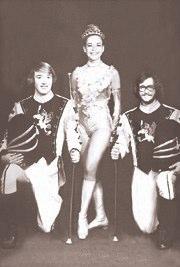 From 1972 - Tom Leslie, Lani Jo Gill Flesch, and Steve Murphy