Biography
KYLENE SPANBAUER is in her fifth season as the Hawkeye Marching Band Senior Golden Girl. A native of Fond du Lac, Wisconsin, Kylene started twirling when she was 3 years old. Kylene began competing at the age of 8, with the nationally-ranked Touch of Silver Twirling Corps. Competing with her team in the last three Twirling World Championships in Switzerland, Italy and Norway, Kylene has won five gold medals with Team USA. Becoming an individual competitor at the age of 9, Kylene has won many National, Regional and State titles.
Kylene is honored to be the reigning 2019 College Miss Majorette of Iowa. She is also the current All- North Regional Solo and 2-Baton Champion and Wisconsin State Solo, Strut, 2-Baton champion. At the 2019 NBTA Nationals, Kylene placed 4th in the Senior National Majorette contest, 2nd in Collegiate Solo finals, and 2nd overall in the College Miss Majorette of America pageant having won the solo portion.
As a first-time contestant in the MAO Teen program, Kylene won the title of Miss Wisconsin's Outstanding Teen in 2016. At the Miss America's Outstanding Teen competition held in Orlando, Kylene was a Preliminary Talent Winner and placed in the Top 8 out of the 51 contestants.
Kylene is currently a senior majoring in Therapeutic Recreation, with a certificate in Disability Studies. Upon graduation from the University of Iowa, she would like to become a Recreation Specialist or a Child Life Specialist.
Kylene's favorite traditions on game day are the "run on '' pre-game performance and visiting the children in the UI Stead Family Children's Hospital during the 3rd quarter with Drum Major Michael Janssen. She cherishes all of the memories made on game days and looks forward to making many more with Junior Golden Girl Ella McDaniel.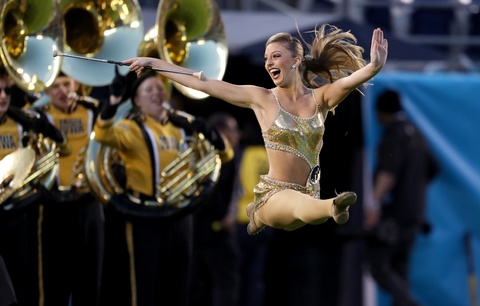 ---
Current + Former Hawkeye Marching Band Golden Girls,
Feature Twirlers, and Baton Twirlers
2021-Present  Ella McDaniel
2017-Present  Kylene Spanbauer
2012-16 Whittney Seckar-Anderson
2007-11  Chelsea Russell
2002-06  Diana Reed
1997-01  Julie Canterbury
1992-96  Tanya Pennock
1989-91  Gayl Anderson
1987-88  Jayna Sanchez, Gayl Anderson (Iowa Girl)
1986  Jayna Sanchez
1985-86 Nikki Meredith
1983-84 Amy Baumel
1982-85  Laurie Broderick
1980-81  Linda Simon
1979  Marcy Goodwich-Volker, Mary Goodrich, Katie Baumel
1977-79  Jane Stemmerman
1973-76  Nancy Shaw
1970-72  Lani Jo Gill Flesch
1968-69  Mary Moffitt Foraker, Lani Jo Gill Flesch
1967-68  Mary Lynn Harvey
1966-67  Mary Moffitt Foraker
1963-65  Bobbie Jean Foulkes
1960-61  Ann-Nita Ekstrom McDonald
1960 Jerilyn Oliver
1959  Ann-Nita Ekstrom McDonald, Margaret Rossi
1958  Ann-Nita Ekstrom McDonald, Lavonne Nolte
1955-57  Lavonne Nolte​
1954  Laura Ellen Moody
1945 Mary DuMont, Catherine Yerkes
1943 Mary DuMont
(HMB alums: e-mail Eric Bush with the names of former HMB Golden Girls/Baton Twirlers so we can expand this list!)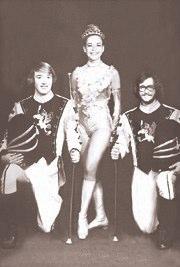 From 1972 - Tom Leslie, Lani Jo Gill Flesch, and Steve Murphy